INFINITY PALETTE
GIRL BOSS
BY NICOLE ONG
6 JANUARY 2020
Nicole Ong is the founder a blockchain advisory firm Athena Advisory, which she founded in November 2018. She is the Singapore chapter lead of SoGal, a global platform that aims to close the diversity gap in entrepreneurship and venture capital. Nicole is also one of the starlets of the Netflix series – Singapore Social, an unscripted docuseries set in Singapore.
What's your passion?
I'm currently setting up an impact VC, and am passionate about social causes like gender diversity in workplaces, as well as the sustainability space!
If you could describe your passion in a lip colour, what do you envision that colour to be? 
Pink, leading with my head, but guided by my heart, feminine yet strong!
Lip Balm, Lipstick or Gloss? 
Lip balm.
Tell us a little about yourself
Besides setting up a VC, I used to be a partner in a blockchain advisory firm, a renewable energy consulting firm, and a family office trader. That aside, in my free time, my idea of unwinding is cooking up a mean meal for my friends/family. 
What's your idea of beauty?
Beauty is compassion, strength. 
What do you like about the Infinity Palette?
The ability to blend different pigments, helps when I'm going straight from the office for a dinner, thus allowing a day to night look!
What is your idea of conscious beauty?
My idea of conscious beauty is a holistic functioning palette designed with sustainably sourced materials, reusable/recyclable packaging, yet diverse in its use!
SHOP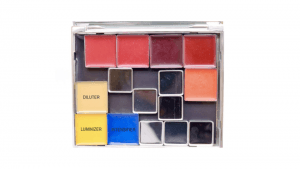 https://drtwlpharmacy.com/wp-content/uploads/2021/01/Nicole-Ong-VC-Blockchain.jpg
919
1600
Justin Teo
https://drtwlpharmacy.com/wp-content/uploads/2019/11/Pharmacy-Logo-1-300x97.png
Justin Teo
2020-01-06 12:48:00
2021-01-20 13:47:51
GIRL BOSS