MIRA-SPONGE™ Seedling Nursery
MIRA-SPONGE™ Self-Watering Seedling Nursery – complimentary with the SOLAR-ALGA, the best hydroponic system
Each SOLAR-ALGA comes with a complimentary self-watering seedling nursery tray for fail proof seed germination, in our proprietary Mira-Sponge, an open cell foam designed for enhanced root and seedling growth.
Easy Germination of All Seeds with MiraFoam- No more buying seedlings!*
For conventional home hydroponic systems, users often turn to buying seedlings because of erratic germination rates. Additionally, delicate seedling growth hampered by mould, root rot, harmful soil-borne diseases and algae. The MiraFoam provides the perfect micro environment for seedling germination and growth. This is as it inhibits algae formation and fungal root rot. At the same time, providing oxygen and even moisture for robust root growth.
The purchased seedlings are then further subjected to transplant shock to the final hydroponic system. Germinating with MiraFoam indoors takes the guesswork out.
*Fresh seeds are recommended for germination. We do not recommend seeds treated with fungicide (read label on packet) as MiraFoam is designed for a fully organic farming system. It is also naturally anti-fungal with in-built air pockets that circulate air while retaining moisture. Refer to our seedling germination instructions here.
SEED, GERMINATE AND PLACE
Direct Placement into SOLAR-ALGA – the best hydroponic system in Singapore, Without Need for Transplant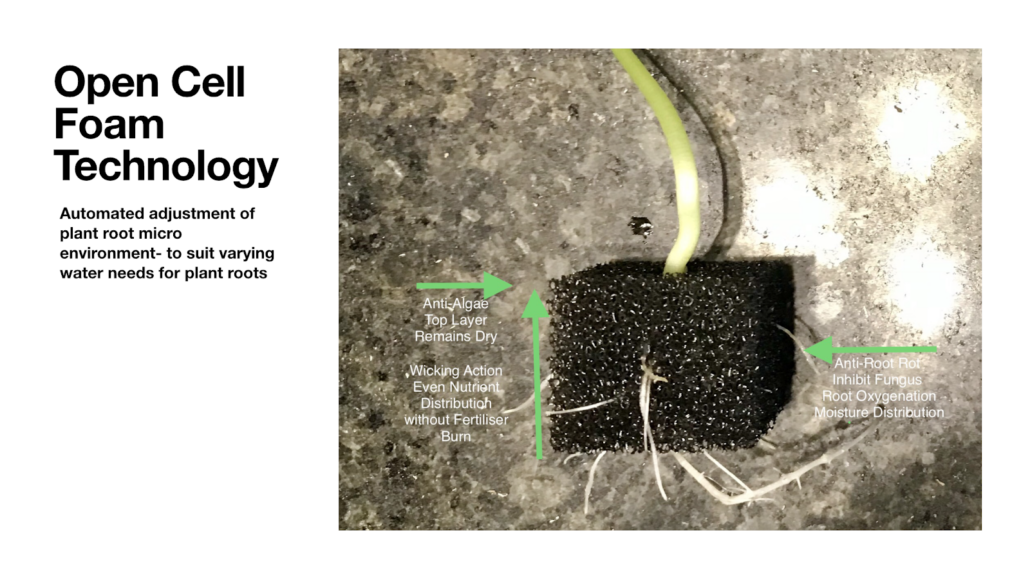 What are the benefits of the Mira-Foam Substrate?
The Mira-Foam technology utilises a non-toxic open-cell polyurethane sponge as a Biological Surface Area (BSA) substrate for the plants. Germination takes place right in these sponges, unlike traditional hydroponic media which requires germination in soil or vermiculite before transplanting of delicate seedlings to the mature system— a process that often results in root damage. Compared to regular polyurethane sponges used in agriculture, the Mira-Foam has a 97-98% Biological Surface Area- which means more surface area for beneficial bacteria to act for healthy plant growth. The open-cell system also allows for superior moisture wicking and root aeration compared to traditional rockwool (risks of inhalation dust, sensitisation, non-renewable). Additionally, our Mira-Foam Substrate can be reused over and over, without the need for net pots (more plastic) unlike rockwool which essentially ends up in the landfill.
SHOP