Sustainable Beauty:
How Slow Beauty Can
Protect The Environment
Sustainable Beauty: How Slow Beauty Can Protect The Environment
Slow beauty is a lifestyle which prioritizes health, physical and mental well-being, the environment and the wider community. It is more than just skincare. Sustainable beauty is part of a cultural shift of living life and doing things slower and more mindfully. This can include getting a goodnight's sleep or having a better diet and avoiding quick-fix beauty products that promise to achieve instant results.
Slow beauty moves towards simpler skincare routines that use only the essential products the skin needs, where less is more. It involves taking more time to buy a skincare product. As well as being patient to give the product time to work, while not expecting overnight miracles. Slow beauty means choosing products made from non-toxic, nourishing ingredients via sustainable methods. This also ties in with sustainability. When you use fewer but better products, you can reduce unnecessary consumption and wastage.
It is not just a lifestyle choice. Slow minimalist beauty is slowly becoming necessary with the beauty and cosmetics generating a significant amount of plastic waste. There is an estimated 120 billion units of packaging every year. Hence, slow beauty is also an ideal way for us to help protect the environment.
How does one shop slow?
Consumers should look out for brands that promise results. At the same time, instilling eco-conscious practices in every step of the supply chain – from ingredient sourcing to packaging.
Dr.TWL Pharmacy
Dr.TWL Pharmacy is an offset of TWL Specialist Skin and Laser Centre. It custom compounds products in small amounts by demand, reducing unnecessary waste brought about by batch-made production. Furthermore, Dr. TWL pharmacy concept centres around minimising packaging waste without compromising beauty benefits. The refillable concept part of our sustainability initiative includes cult favorite products now available in bulk refillable packaging, which are both wallet and environmentally friendly.
It is the first luxury skincare e-pharmacy in Singapore offering cosmeceutical skincare prepared in a dermatologist practice TWL Specialist Skin and Laser Centre. Also providing quality prescriptive actives to the public. These prescriptives are over the counter but are evidence-based dermocosmetic ingredients. They actively treat conditions such as acne, rosacea and eczema. An example is berberine which is anti-inflammatory and bactericidal. It targets mechanisms in acne formation as well as treat acne scarring, erythema and post-inflammation hyperpigmentation.
The custom compounded Prescriptive Skin – Acne Treatment contains organic berberine extract that helps to target mechanisms in acne formation. It helps to block sebum production, is anti-inflammatory and bactericidal. Treating acne scarring and erythema, it also helps to inhibit melanin formation and combat oxidative stress
Features
The pharmacy was launched in 2020 and has been featured by various media like 8 Days, Clozette, Cosmetics Design Asia and Men's Folio.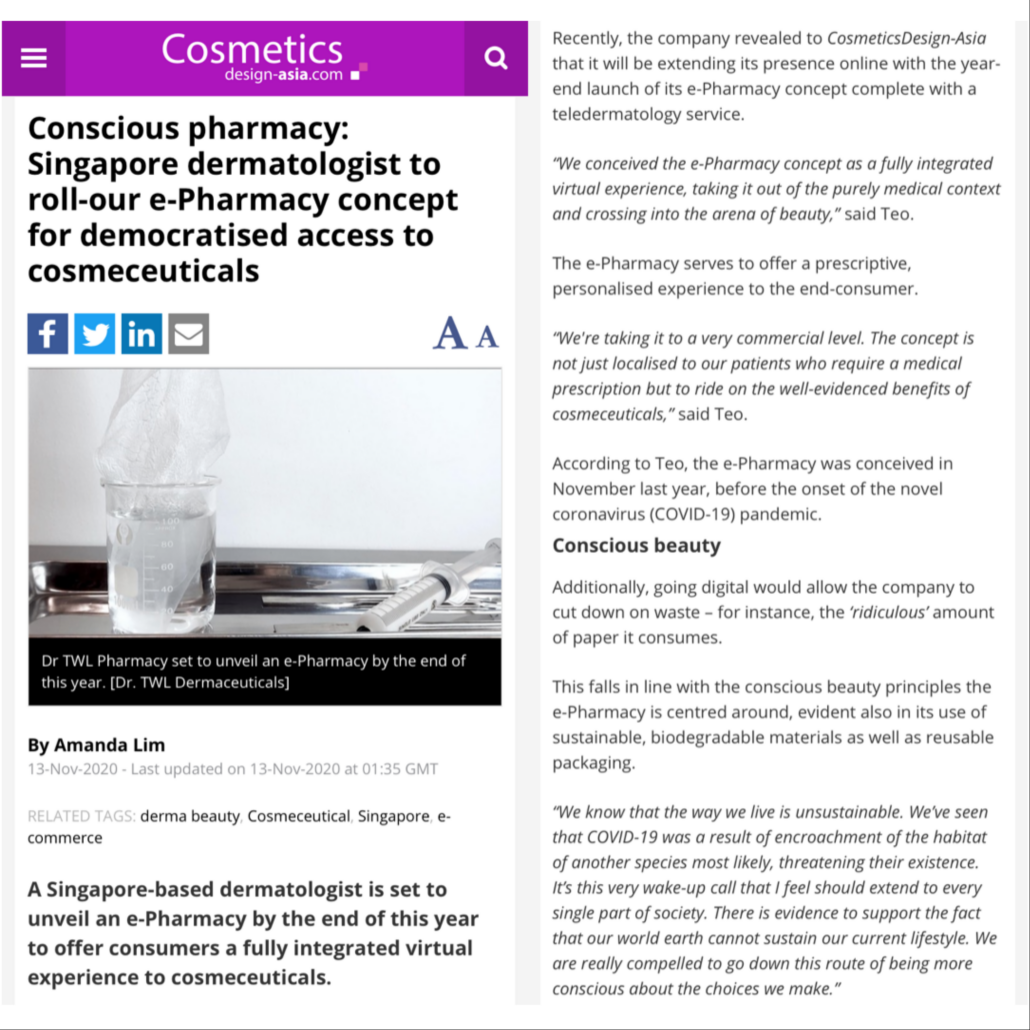 At the heart of the pharmacy is the polysaccharide mask. It is a novel plant-based reusable membrane that is organically grown from the Amorphophallus Titanum plant. It contains no liquid and utilizes freeze dried packaging, resulting in a reusable mask experience. Sustainably grown in our biotechnology facility, it does not contain any chemical additives and is fully biodegradable. From a scientific perspective, this hydrophilic(water-loving) plant root membrane is engineered to deliver moisture and active skincare ingredients by a minimum of three times* absorption abilities when evaluated in instrumental tests. To illustrate, use it as part of the Conscious Mask Bar to enhance absorption of cosmeceutical essence vials.
The MoistureMax™ Skin Healing Polysaccharide Facial Mask has a unique porous structure that traps cosmeceutical active ingredients in mini-reservoirs within the mask. With enhanced delayed release of cosmeceuticals with minimal transepidermal water loss.
Integrated with these are AI chatbot Chelsea, who is the on-site dermatology physician assistant that will help you to compound the best combination of skin care actives for your condition using an advanced algorithm developed by the clinic.
Other offerings:
The pharmacy also houses a custom makeup lab, similarly compounding makeup on a made-to-order basis using 100% pure mineral pigments. This is suitable for sensitive skin users. Also ideal for those who require color correction and cosmetic camouflage from conditions such as acne and rosacea. The on-site dermatology clinic nurse is also able to offer tips on how to correctly use the color correction system as an effective method to conceal your skin's imperfections without irritating sensitive skin.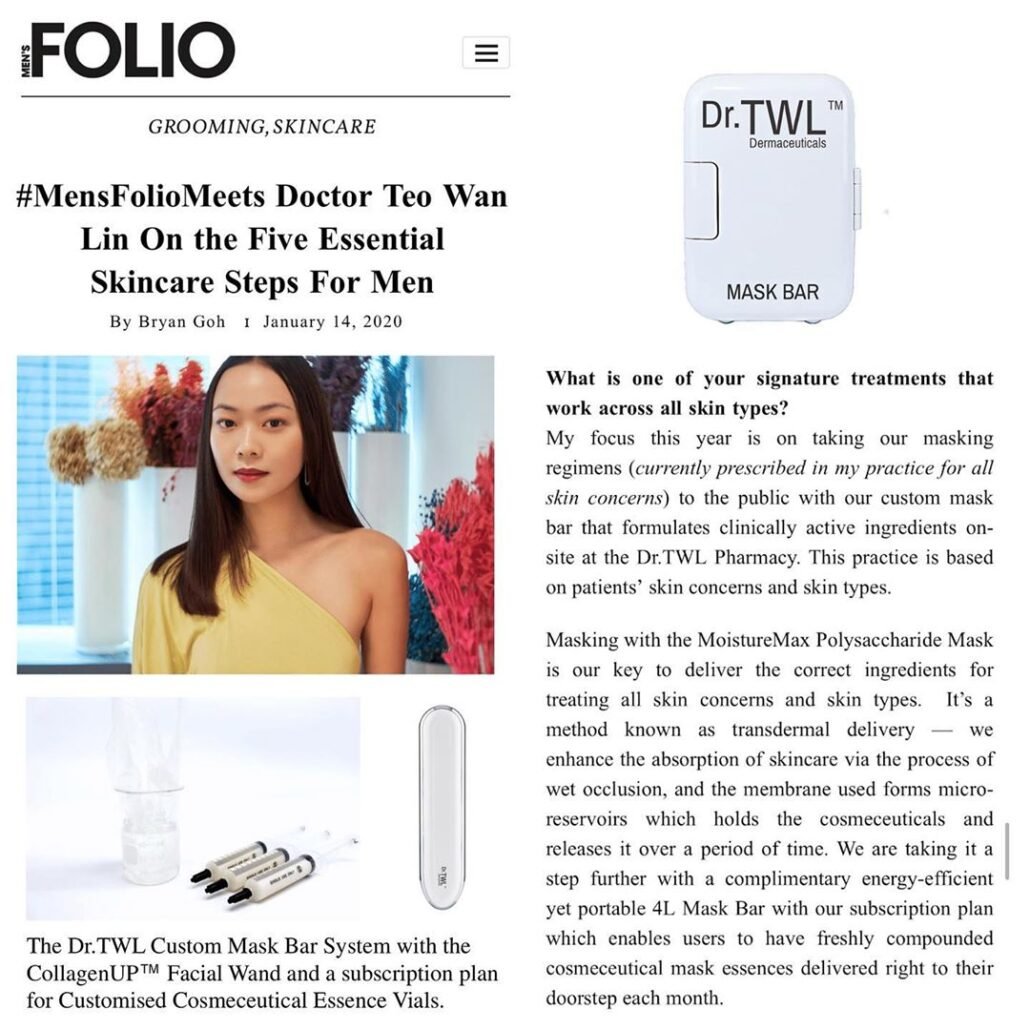 How is Slow Beauty encompassed by Dr.TWL Pharmacy?
"Sustainable beauty is also an important topic. In our pursuit of beauty, it is important to consider the environmental impact of the chemicals used in personal care products. It is my belief that as our scientific knowledge of dermatology advances, we will discover the immense potential of botanical and plant extracts in both skin and hair cosmeceuticals. Botanical cosmeceutical extracts do not involve the synthetic ingredients that often have an environmental impact in the manufacturing process, nor do they contribute to ocean pollution via toxic runoff. Sustainable beauty practices also refer to empowering the individual to take charge of their own beauty haircare and skincare regime right in the comfort of their own home, using evidence-based cosmeceutical ingredients," accredited dermatologist, Dr Teo Wan Lin, founder of Dr.TWL Dermaceuticals.
Silvexia UV-Protective Palette
The Silvexia Makeup Palette is a take on every girl's dream make up palette. Holding up to 20 tins of customised refillable eye, lip and cheek makeup in a sleek UV coated silver anodised magnetic palette. Our skincare makeup also includes cosmeceutical benefits from an intensive phytoceramide formula that prevents lip eczema, discolouration, wrinkles and loss of volume.
The Infinity Palette comes in the Silvexia makeup palette, designed to fit into your standard makeup bag for on-the-go creation of lipstains. Coated with a sophisticated finish with advanced materials engineering technology. UV-protective anodized silver prevents UV-degradation of cosmeceutical active ingredients.
Understanding the need for beautiful, yet hygienic packaging for makeup, and the need for variety, Dr. Teo Wan Lin, came up with an all-in-one solution: a durable, protective palette that prevents UV-degradation of active cosmeceutical ingredients and plant oils. It has a fully magnetic base to allow rearrangement of makeup tins, also allowing refills via our pharmacy-lab service where custom compounding takes place.
Are you the type that likes to switch between many lipstick colours? Well, it looks like every girl can't get enough of lip colours.
The Infinity Palette contains everything you need to design your own highly pigmented lip stains on the go while traveling and with infinite colour possibilities in one basic palette. Highly pigmented shades of red lipstick bases, which are used to make colours from each wheel (wine red, fiery red, berry, coral and pinks), can be customized with our in-house formulated intensifiers to make any shade imaginable! The lip base is fortified with Salmon Roe DNA and moisturizing phytoceramides to volumize, anti-wrinkle and nourish your lips.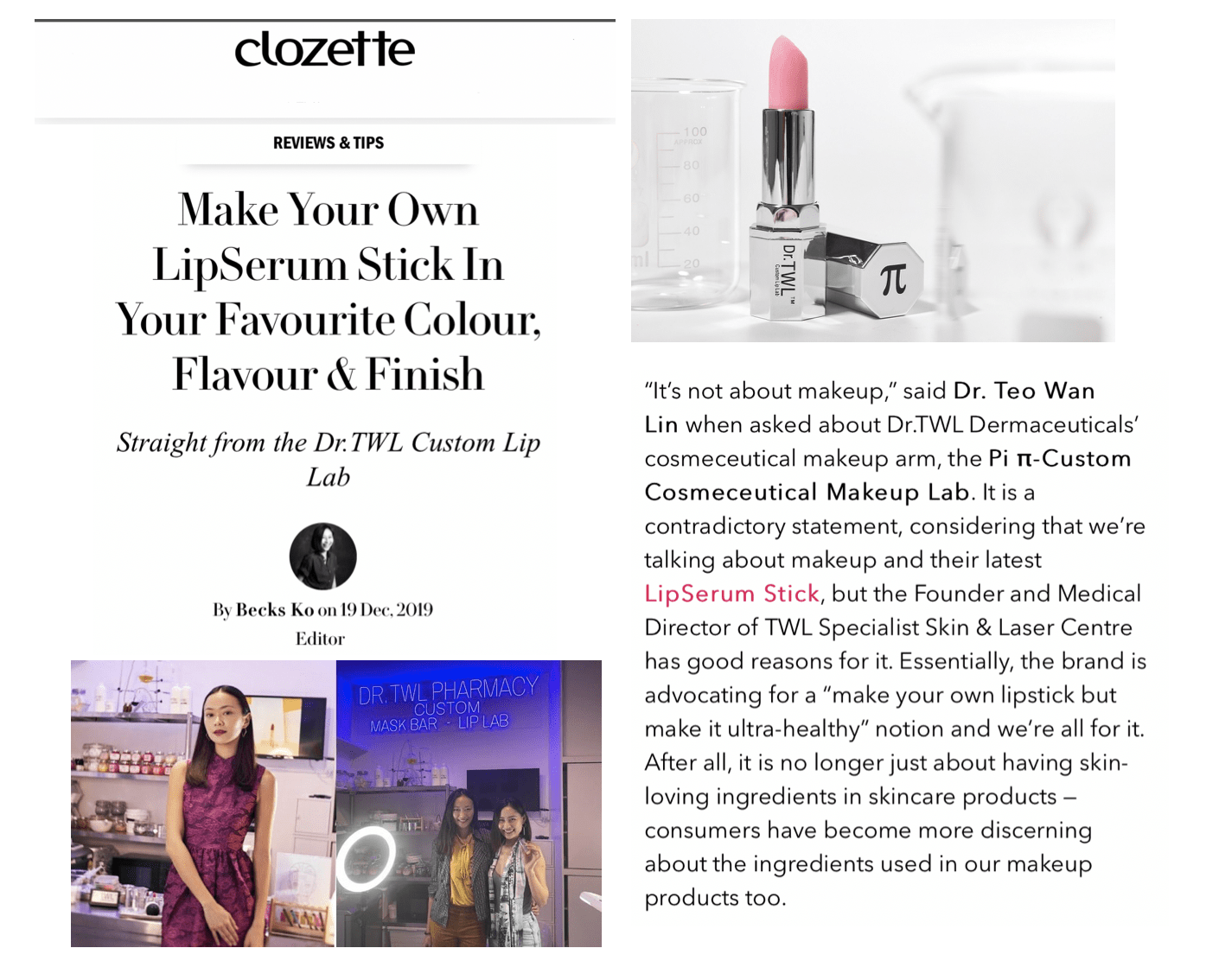 https://drtwlpharmacy.com/wp-content/uploads/2020/01/mask-with-3-vials.jpg
4000
6000
Jolene Tan
https://drtwlpharmacy.com/wp-content/uploads/2019/11/Pharmacy-Logo-1-300x97.png
Jolene Tan
2021-06-21 12:20:23
2021-06-30 18:39:43
Sustainable Beauty:
How Slow Beauty Can
Protect The Environment