Best Moisturiser to Prevent Dry Skin on Flights

Best Moisturiser to Prevent Dry Skin on Flights
Do you have sensitive skin? If you are prone to eczema flare ups when you travel, this article explains why. Flaking, redness, stinging sensations are all signs of eczema, also known as dermatitis. As the VTL travel lanes open in Singapore, we are all looking forward to our next getaway. The expansion of the VTLs has many of us revisiting the rules of skincare on a long haul flight. If you recall having an eczema flare-up the last time you travelled, save your skin with some advice from an accredited dermatologist. Now is time to revise moisturiser tips with Singapore dermatologist Dr. Teo Wan Lin. Dr. Teo is also the chief scientific officer of Dr.TWL Dermaceuticals, a cosmeceutical skincare brand based in Singapore. If you are planning to go on a trip, here are some tips for keeping your skin well moisturised throughout your journey.
Watch out for signs of eczema
First of all, watch out for signs of eczema. We are all familiar with the changes of skin and the environment or weather that can cause symptoms such as flaking, redness and stinging on the skin. If you ever experience any of this, you may actually have a form of eczema. This may be a clue that you do not just have dry sensitive skin.
If you have prominent redness and flaking around the nose and mouth area, it could be a sign that you have a special form of dermatitis. This can be seborrheic dermatitis, which is caused by an oily-dry skin condition. We treat seborrheic dermatitis with anti-fungal medications. The condition can also be a form of perioral dermatitis. This is when there are acne-like bumps, including redness and flaking, around the mouth area. If you suspect any one of these conditions, you should visit an accredited dermatologist to receive appropriate medical treatment. 
Singapore Dermatologist-Recommended Moisturiser Tips
Wear moisturiser in layers whenever travelling in the following order-serum, emulsion, cream and mist (throughout the flight). The difference in humidity levels especially when you're traveling from Singapore, where the humidity levels are nearly 100% year round, compared to that on an airplane, is considerably lower. This increases trans epidermal water loss, which causes a dehydrated skin barrier that can trigger off eczema flare-ups.
Layering on moisturiser in this sequence recommended is based on the key principle of vehicles in skincare formulations according to dermatologic therapy. The first layer is the lightest (serum) and readily absorbs into the skin, and the last should be convenient to apply and increase absorption of the other products. Why not just one single product? Each vehicle (whether cream, serum or mist) is optimised for carrying a certain type of ingredient that is beneficial for stratum corneum repair. Mixing all together in a single product will be simply a cream that has much lower concentrations of the key active ingredients.
Choose a well-designed face mask considering the material, design and also consider the level of protection.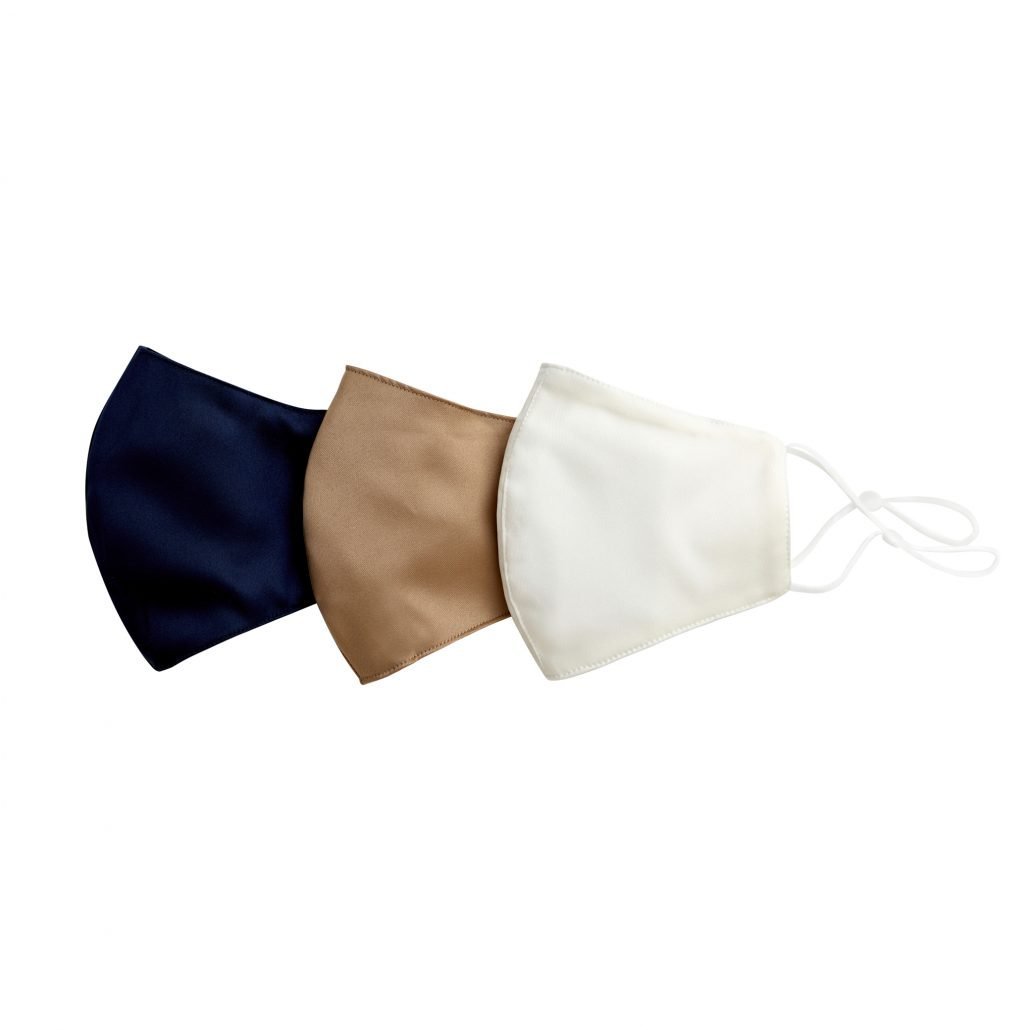 My prototype1 ideal face mask design published in the Journal of the American Academy of Dermatology incorporates skin-friendly elements in the design which are key to safe, comfortable and effective mask wearing— with the equivalent filtration of a surgical mask. The biofunctional textile technology we incorporate using metallic nanoparticle as also treat and prevent facial skin conditions such as maskne, eczema and cheilitis (mask lip). With the advent of multiple infectious variants, the use of the N95 mask becomes critical for protection against airborne transmission. The N95 mask however is one of the worst for the skin microenvironment, because of the occlusion which causes changes in the skin microbiome. A solution is to "reverse double-mask2" without occluding the nasal orifice, as I have proposed in my research paper.
How does a face mask affect my skin on a flight?
The duration of contact of face masks is significant during a flight. Considering that for safety reasons, N95 masks are likely a requirement on all the flights and also during airport transfer. In terms of wearing it for many hours at a time, there are clearly mechanical concerns. The N95 mask naturally has a design that is as air tight as possible. There are polyurethane pieces which compress on skin, this causes marks as well. The mechanical irritation on skin is proportionate to the duration that the mask is on for. In terms of the type of mask, it is important to consider the design as well as the material. Also important to consider is the impact on public health measures as well as on your skin.
Now what is a no no is definitely the wrong choice of masks. Rightly coined by a Hong Kong professor as a selfish mask, these are masks with valves. Never wear those. These may be labeled as N95 but are meant to filter dust particles. In a pandemic, we wish to filter the air one breathes out as well to protect others around them. These masks are actually a one way sort of filter which functions really as an exhaust valve. Wearing such masks is not appropriate and in my opinion should be banned. I think many countries have highlighted this concern. The function of a fabric face mask or any sort of face mask wearing is to reduce the environmental contamination of one's bio fluids. Hence, this reduces the overall load of the COVID-19 virus which is airborne.
The best moisturiser for dry skin may well be the right face mask
Right now, I recommend wearing the N95 mask, or the European standard equivalent which is the FFP2 . This is generally recommended for the more infectious Delta and now the Omicron variant. The issue though is the N95 mask is that it is considerably more uncomfortable. The n95 masks sold with ear loops are actually counterfeit and one should beware. However particulate respirators with ear loops are in fact more practical. This is why you see individuals wearing the kn95 masks. What I wish to highlight is a better, more practical standard, that is actually the FFP2 mask. The FFP2 mask is tested for airtight seal with the ear loop design. However, all disposal particulate respirators are very harsh the skin. This is because of the occlusive environment it creates with a fairly tight face seal.
What I have proposed in my paper is an ideal face mask design2. Design elements can contribute to a design of a safe and effective fabric reusable fabric mask that is suitable for long wearing on the skin. The Dr.TWL Anti-aging Anti-Maskne Mask is tested in a non-healthcare setting to have equivalent filtration of a surgical mask. However, where we consider the Delta and Omicron, you really need a N95 respirator or a FFP2 EU equivalent. Not even a KN95 will make the cut. What I propose then is to actually to wear the biofunctional textile mask under the particulate respirator, a concept I coined as "reverse double masking2"
A Travel Pouch helps prioritise functionality and practicality over your regular skincare routine
Another tip that I have is has to do with functionality. It's no use trying to use your entire seven or ten steps skincare routine on a flight, simply because it is not allowed. The flight does not allow you to bring in that many things. So I have condensed that into our travel pouch contents which contains the following. It is also what I bring around usually in my bag, not just on flights but everyday. 
Travel Essentials
It may not be practical to practice elaborate double cleansing or even cleansing on a flight. Get on your flight with clean skin clear of makeup. For me, I just need a good layer of moisturiser and an aviation-approved clear travel pouch with only the essentials to reapply, such as a heavy-duty lip product, and a hydrating mist which is easy and comfortable to layer on throughout the flight. It is simply impractical to apply a lot of moisturising cream when you are traveling. Consequently, a facial mist spray is the most convenient and effective way to deliver moisture to your skin throughout the day. The facial mist should contain active ingredients which are water soluble. For example, hyaluronic acid, polyglutamic acid and glycerin. These ingredients help to increase the ability of the skin to retain and attract moisture molecules.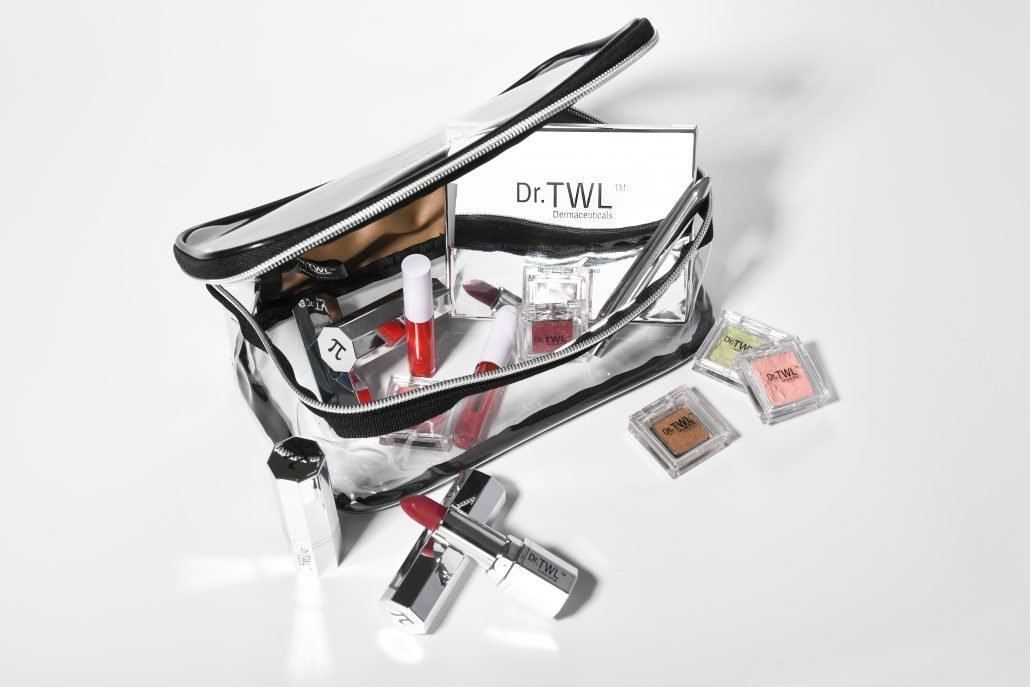 Maximum Skin Moisturisation
Travelling is also not time for you to bring your entire nine step skincare regimen with you in a flight or even on the trip itself. A good cream moisturiser that is ceramide based as well as a facial mist will do wonders to increase the hydration of your skin. Bearing in mind the skin microclimate is also a very useful way to enhance the moisture level of your skin. It can also reduce fine lines and wrinkles without actually applying any cream. Isn't that great? Especially if you're living in hot and humid tropical Singapore. How does this work? At Dr.TWL Dermaceuticals Biomaterials Research, we study novel textile cosmeceuticals, such as polysaccharides, as well as polymers. These can enhance the skin's microclimate and produces an ideal skin environment. This encourages all the beneficial cell processes that enhance skin resilience.
References:
Teo WL. Diagnostic and management considerations for "maskne" in the era of COVID-19. J Am Acad Dermatol. 2021 Feb;84(2):520-521. doi: 10.1016/j.jaad.2020.09.063. Epub 2020 Oct 1. PMID: 33011321; PMCID: PMC7528820.
Teo WL. Design elements in face masks can provide an effective fit to prevent droplet spread: A reply to "Importance of nose wires in face masks". J Am Acad Dermatol. 2021 Sep;85(3):e153-e155. doi: 10.1016/j.jaad.2021.05.017. Epub 2021 Jun 5. PMID: 34102250.
https://drtwlpharmacy.com/wp-content/uploads/2022/01/travel-moisturiser-tips.png
1080
1080
Joanne Lim
https://drtwlpharmacy.com/wp-content/uploads/2019/11/Pharmacy-Logo-1-300x97.png
Joanne Lim
2022-01-08 16:21:40
2022-01-11 22:00:30
Best Moisturiser to Prevent Dry Skin on Flights