Dermatologist Recommended Skincare Products for Flawless Skin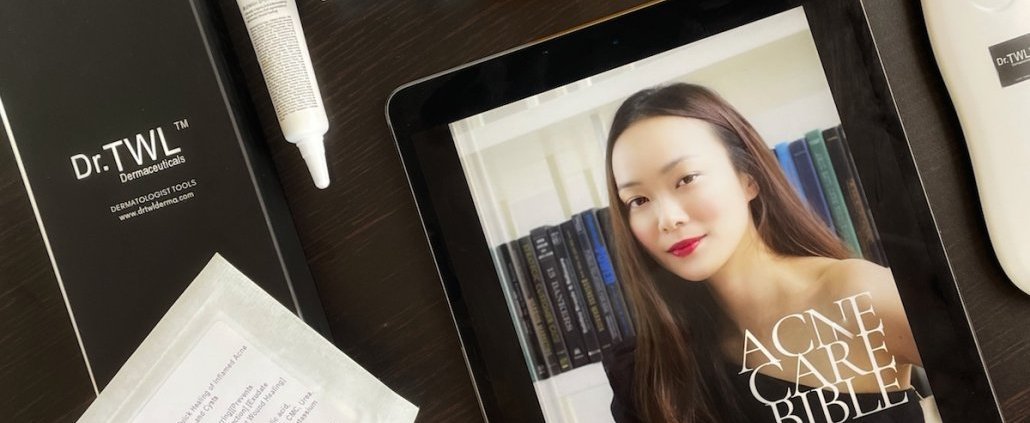 Dermatologist Recommended Skincare Products for Flawless Skin
First of all, is it possible to get flawless skin? According to board certified Singapore dermatologist Dr. Teo Wan Lin, the best way to think about that is in terms of skin health. In this article, we discuss dermatologist recommended skincare products and how dermatologists help with skincare recommendations.
"Flawless is never possible because skin, just like every organ in the body consists of living cells, it isn't plastic! This is the origin of the term 'organic' referring to materials and forms. This means it retains a form that is part of nature, its inherent state of being. The little lines, pores, freckles, these are all signs of organic forms which one should not fuss about. Rather, we should focus on skin health. Healthy skin is guaranteed to be beautiful. Definitely, this is beauty in the eyes of a dermatologist," – Dr. Teo Wan Lin.
If your quest for skincare products for flawless skin leads you here, read on.
Dermatologist recommended over-the-counter skincare products for problem skin
Firstly, individuals with problems skin end up turning to over the counter skincare as the first choice.
Acne sufferers always seek out drugstore skincare first when dealing with acne breakouts. Hence, pharmacies are the go-to place for skincare treatments for common conditions such as acne and dry skin. Only when it gets more severe or if the skin problem does not go away, they decide to seek medical attention.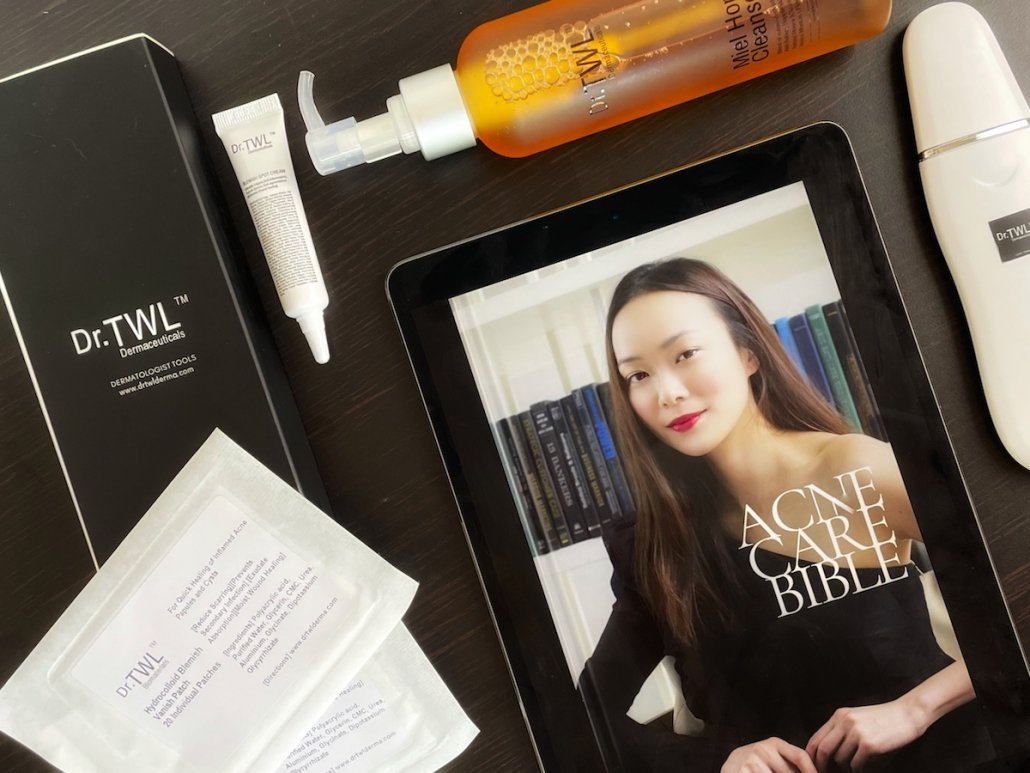 Dermatologist recommended skincare in traditionally, have helped many individuals decide on the choice of skincare products. These are often without fancy branding or marketing campaigns. Sold in pharmacies, drugstore skincare is cost effective and safe.
Drugstore over the counter skincare products are best for those with sensitive skin problems. This includes those with acne, eczema, and dry skin. Dermatologists work with such brands to ensure that the products are suitable for those with sensitive skin.
The term hypoallergenic arises from dermatologist-tested products tested for problems skin. You should always look for products with a dermatologist-tested label. However, this does not always mean that it is recommended.
What dermatologist-tested means for skincare products
The term is not strictly regulated. However, generally speaking, it likely means it is free of toxic ingredients. This actually is the base case for all skincare products.
It is usually free of harmful ingredients. Most of the time, all skincare products do not contain any of these toxic substances because they have to pass through regulatory bodies such as the FDA and the HSA. The key here is the dose makes the poison in dermatology.
Choose dermatologist-recommended skincare products
Even the gentlest, most effective ingredient can become toxic if used in an inappropriate dose. This is where dermatologists work with cosmetic chemists. To formulate products which are not just gentle but also effective on various skin.
Dermatologist-recommended skincare is better than just dermatologist tested. For a product to be recommended by dermatologists, who are licensed and board certified, these statements must be backed up by scientific evidence. For example, moisturisers recommended by dermatologists for eczema are usually suitable as part of active eczema treatment. Dermatologists emphasise that moisturisers containing ceramide are important for rebuilding the skin barrier. However, while many products can contain ceramide, they are not all recommended by dermatologists for dry sensitive skin. The key here is the formulation. Ceramide is only an active ingredient that needs to be carried in a base (vehicle). A ceramide serum for example will not benefit an eczema patient at all. There needs to be a combination of other moisturisers such as glycerin, humectants and occlusives which work together to repair dry sensitive skin.
Dermatologist-recommended skincare products target all skin types
The concept of universal skin types very important. The best type of skincare product recommended by dermatologists is always suitable for individuals for all skin types.
It is nice to think that there are different cleansers suitable for different people with different skin types. However, dermatologists advocate gentle effective cleansing for all skin types. Hence the best facial cleanser for oily skin or dry skin is always a gentle cleanser.
Why dermatologists recommend gentle cleansing for oily skin
Even when your skin is oily, an excessively drying cleanser or skincare regimen will cause the skin to react badly. In fact, oily skin produces even more oil. Oily skin paradoxically producing even more oil is known as paradoxical reactive seborrhea. The skin microenvironment is essentially a balanced ecosystem where every part must function. Skin cells communicate with each other to ensure that skin remains healthy and resilient.
Dermatologist recommended skincare steps for flawless skin
According to Dr. Teo Wan Lin, "First of all, accept that no one is flawless. However, if your skin is healthy, you can be sure it will end up looking great as well. The best approach is to correctly diagnose and treat your skin problems. What you assume to be adult acne may in fact turn out to be rosacea, and sensitive skin not related to skin dryness but a true allergy to some products you are using."
Dr.TWL Skincare Pharmacy Tips for Healthy Beautiful Skin
These are the basic steps for getting rid of acne even before you need to see a dermatologist.
1. Cleansing twice a day is a must for acne-prone skin
Always cleanse your face at the start and end of the day. In humid summer climates like tropical Singapore, the recommendation is to wash your face twice a day. Cleansing helps to maintain a healthy balance of bacteria. A healthy skin microbiome includes good bacteria that can crowd out bad bacteria. This ensures that your skin does not get infected. Acne is partly due to overgrowth of a certain type of bacteria known as propionibacterium acnes.
2. Moisturise with the best type of moisturiser for combination/oily skin
Secondly, always moisturise. Moisturiser comes in many different forms. It can be in the form of a serum. Moisturising serums are easily absorbed, usually as a gel type.
A facial oil can be formulated for all skin types, not just dry skin types. The MIRACLE Facial Oil Serum is a balancing serum that also reduces oil production and inflammation.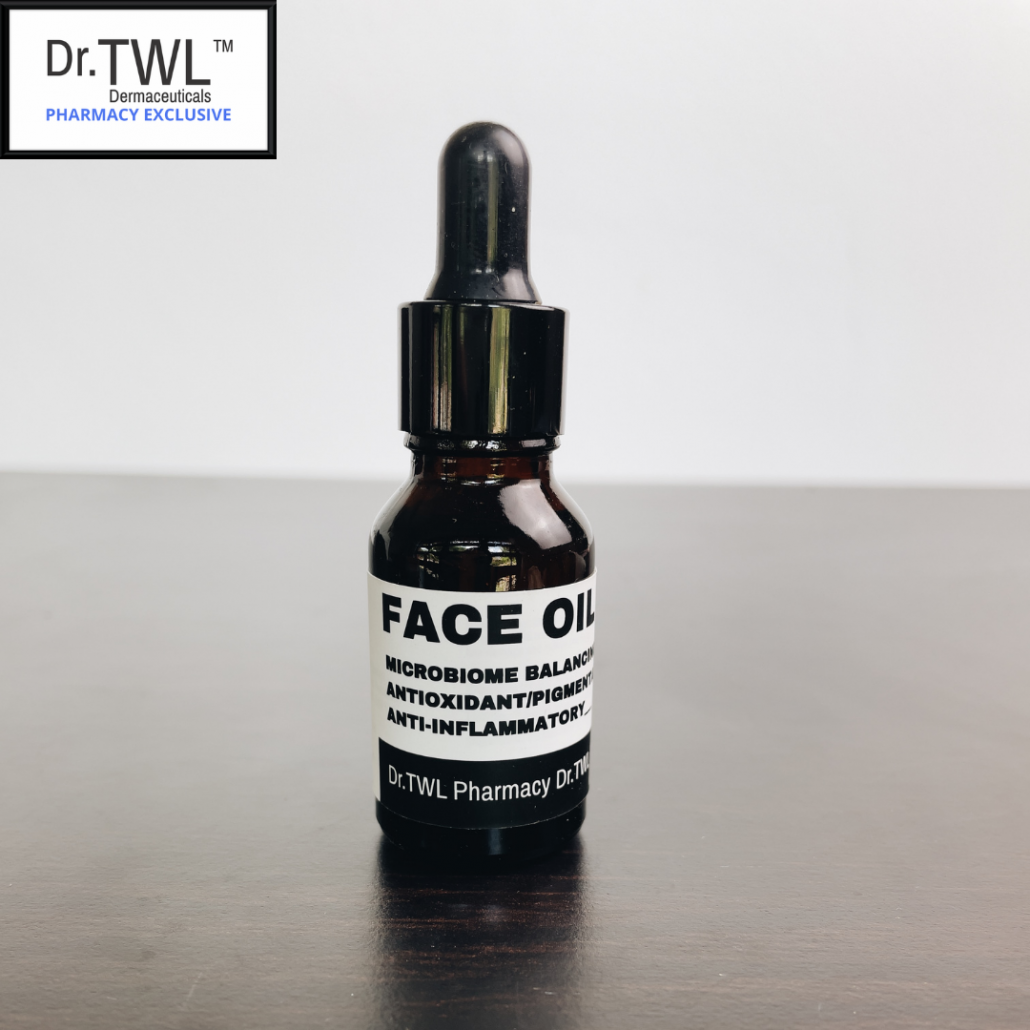 Creams and ointments are generally reserved for dry skin. Ointments are usually mineral oil based. For severe eczema, creams and ointments are recommended to increase the hydration level of the skin by replenishing the lipid content. For severe acne on treatment with a prescription medication known as isotretinoin, skin can become very dry. Your dermatologist will usually recommend a ceramide dominant moisturiser as part of prevention of eczema while on acne treatment.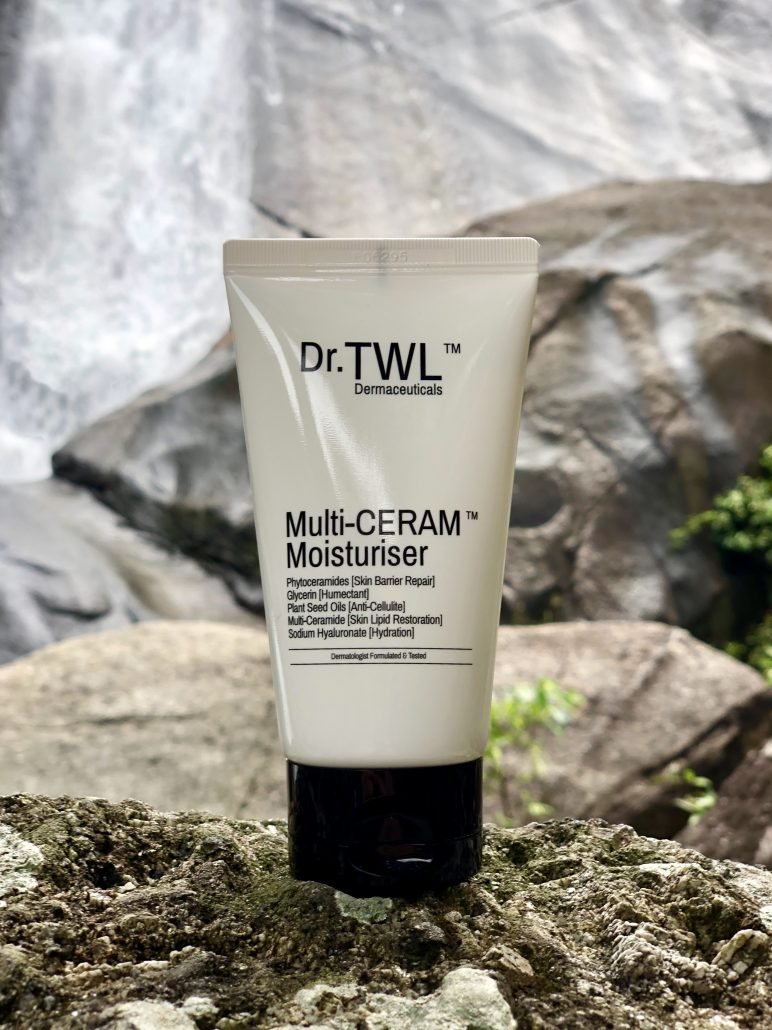 3. Dermatologist-recommended cleanser is the most important for acne prone skin
The type of cleanser you use affects acne control. Know that a good cleanser can also have longer lasting effects on your skin. For example, honey and soy based gentle cleansers actually helps to moisturize the skin after cleansing. Think of cleansing this way. First, the foam created helps to gather or emulsify dirt, bacteria, oil and grime. Secondly, you can rinse it off with water. Honey has natural antibacterial properties that help maintain a healthy microbiome.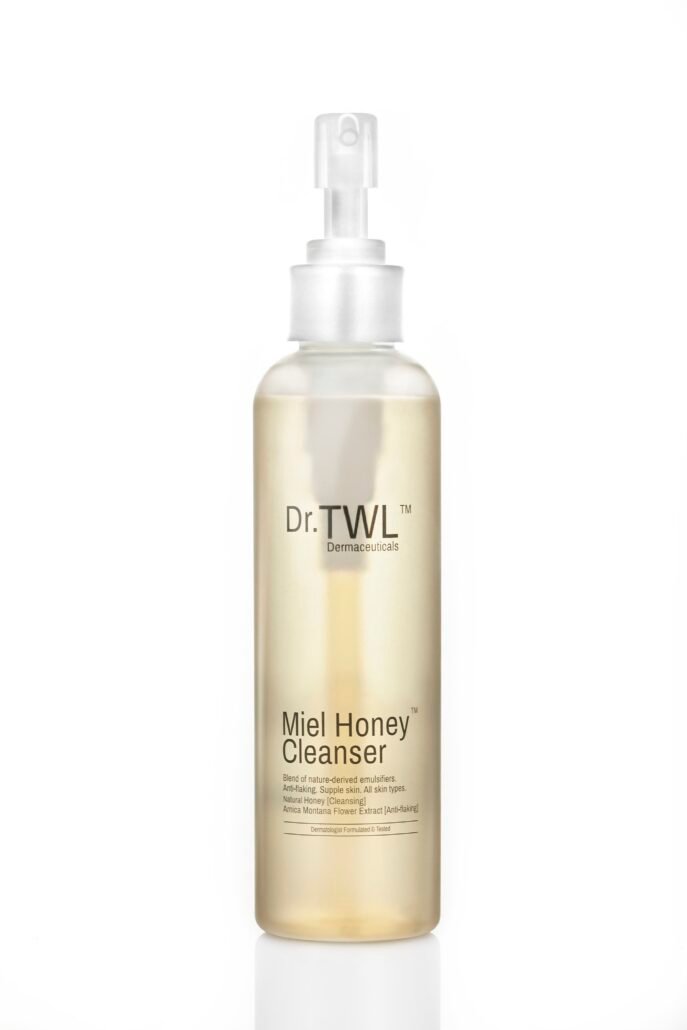 4. Do not use any facial scrubs, use an exfoliating facial cloth instead
Being gentle on your skin also means not using any abrasive scrubs. Generally, dermatologists recommend not using any exfoliating scrubs on your face. This is because most individuals with repeated use will develop skin sensitivity. The harsh abrasive beads in a facial scrub will cause skin irritation with repeated use.
Rather a gentle exfoliating cloth such as the micellar exfoliating pad is sufficient with gentle for gentle and effective exfoliation to renew your skin cells.
5. Dermatologist recommended sonic cleansing
Incorporate sonic cleansing in your skincare regimen for effective cleansing and exfoliation. Traditional sonic cleansing in the form of facial cleansing brushes are effective for gentle exfoliation according to many dermatologists. However, for individuals who have very sensitive skin, a better type of cleansing brush is a blade style sonic cleanser, which was originally popularised by Korean dermatologists.
6. Do not touch your face!
For acne prone patients, dermatologists recommend not touching your face Bacteria present on your fingertips can cause skin infections. Infection occurs in acne prone individuals especially if you have an existing acne bump. Touching and squeezing it will cause it to get infected. Bacterial infections can cause an acne papule to become red, big and swollen becoming an acne cyst.
7. Visit a dermatologist over an aesthetician/aesthetic doctor
Without a doubt, going to a dermatologist is the best option for you if you can afford it. This is because the skin is a true organ of the body that requires years of specialised study. Many "skin doctors" or "aesthetic doctors" are not board certified dermatologists. The Dermatological Society of Singapore and the American Academy of Dermatology run campaigns to educate the public on the importance of choosing a board certified dermatologist. Not just any doctor can pass off to be a skin doctor.
Always check your doctors board certifications with your local ministry of health or health board.
If your acne condition is mild, you will benefit from suitable over the counter skincare. Pharmacies and drugstores generally have a history of stocking medications for minor ailments. Drugstore skincare is one area where the pharmacy can help.
Drugstores stock dermatologist recommended skincare with evidence based active ingredients.
If your acne is severe, you may need prescription medication for that from a dermatologist.
8. With dermatologist recommended skincare, the secret to clear skin is not a secret at all
According to dermatologists, clear skin is achievable with proper treatment and maintenance skincare. First ensure that your existing skin condition is correctly diagnosed and treated. Thereafter, focus on maintaining a healthy skin microenvironment to prevent recurrence. If you have genetic predisposition to certain conditions like acne, it is important that you follow up with a dermatologist regularly. Your dermatologist will be able to recommend a long term treatment regimen for you for prevention. This may include prescription medications such as retinoids to ensure that your skin remains clear. Newer acne creams contain functional ingredients derived from plants that can work for acne pimples.
9. Check for underlying hormonal issues causing acne
Underlying health problems such as polycystic ovarian syndrome (PCOS) can cause adult acne. Get PCOS diagnosed and treated because it can be the main cause of persistent adult acne.
10. Not all dermatologist recommended acne creams are drying and harsh
Latest dermatological research shows botanical ingredients in over the counter acne creams are effective and non-irritating. Traditional creams like retinoids and benzoyl peroxide can cause irritant contact dermatitis. Newer functional ingredients such as botanical berberine and chlorella vulgaris work via active pathways in acne physiology. These plant derived ingredients help to suppress oil production, acne inflammation and also prevent hyperpigmentation scars.
11. Dermatologist recommended products and the truth about cosmetic claims
Cosmetic claims are actually not regulated by the FDA or the HSA, because they are not classified as therapeutic creams and are for sale on an off-the-shelf basis. On that note, there is really no real regulation that exists to ensure that these cosmetic claims are scientifically backed up by evidence.
Dermatologist recommended products on the other hand have to be backed up by a good scientific, evidence based formulation.
Be cautious about products with instant brightening claims, but do not dismiss them as well. The scientific formulation of an instant brightening effect product could work. This is due to additional actives, such as micas, which are present in makeup to help to reflect light.
12. Colour correcting cosmetic camouflage
Suffer from rosacea or red pimples? Check with your skincare pharmacy if they offer cosmetic camouflage. These are ways in which application of cosmetic creams that do have inherent lightening or brightening properties, to also have an instant brightening. This is better than just piling on more concealer which can be bad for skin, and also cause a caky unnatural look. For dark under eyes circles or dark scars, cosmetics could contain orange pigments. Orange counteracts the darkness of the undereyes. Skincare makeup for example from the Dream Concealer series available at our pharmacy helps to treat and conceal.
13. Dermatologist recommended skincare with star active ingredients
Niacinamide, which we know as a Vitamin B derivative, is highly efficacious for lightening pigmentation. Niacinamide in skincare produces an overall skin brightening effect. It controls oil production and increases collagen production as well. The same goes with instant glow creams. It could actually contain some micas. Our skin is an external organ that is affected by environmental factors. Uv exposure and pollution generate free radical damage that causes oxidative skin stress. Skincare active ingredients such as purslane, also known as portulaca oleracea extract, camellia sinensis and other plant derived antioxidants can provide an immediate effect in terms of neutralizing the free radical damage.
14. The best dermatologist recommended skincare hack that gives immediate results?
These work directly on the skin barrier. If your skin dehydrates, then the dullness is due to the lack of moisture. Dehydrated skin looks worse than moisturised skin. Apply a lipid-balanced ceramide based moisturiser or a good facial oil. The cosmetic effect is visible almost immediately as your skin is able to absorb all of this.
Hyaluronic acid and polyglutamic acid are actually molecules that are present in the dermis. Hyaluronic acid is able to hold up to 1000 times its own weight in water. Polyglutamic acid actually works four to five times better than hyaluronic acid. They are humectants which means it traps moisture under the skin. Hyaluronic acid and polyglutamic acid have an immediate effect with regards to the brightening and plumping effects. This is because polyglutamic acid is a very large molecule that sits on the surface of skin, and is also an active ingredient present in the Mineral Booster.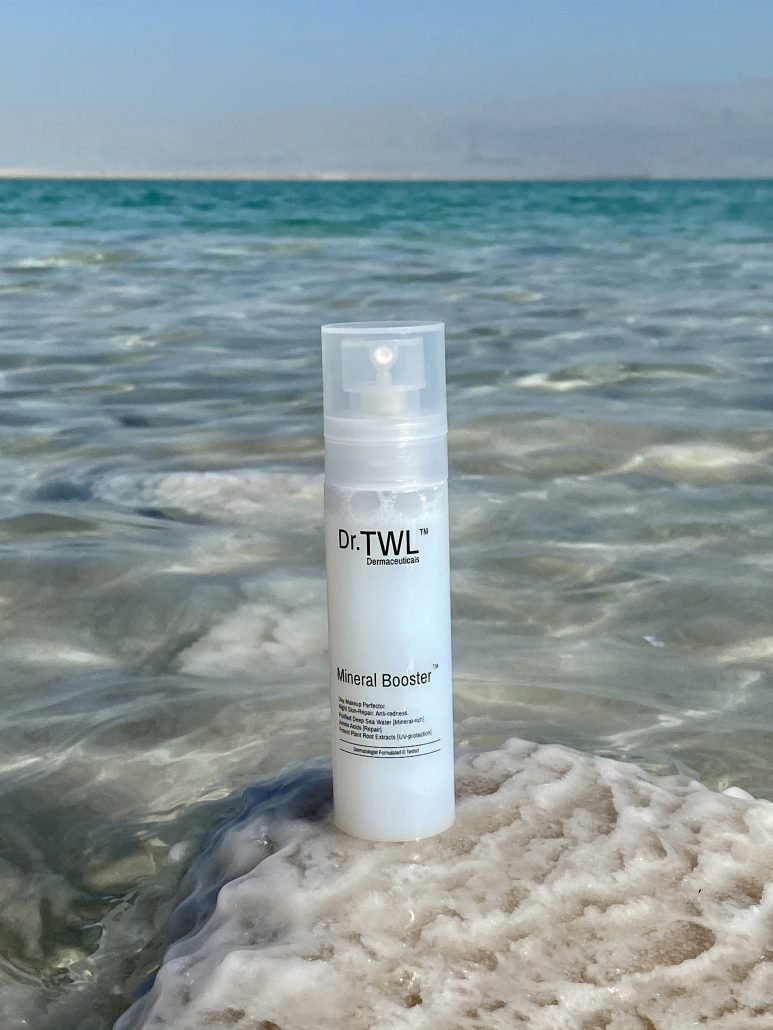 15. Skincare generally takes time to work, at least 2 weeks of consistent use
How long does it really take for a product to show efficacy or any visible results on the skin? Does it vary for products like cleanser, versus toner and serum or moisturiser?
For skin barrier type of concerns, effects are usually visible within three days or even less. To observe for sustained improvement, we always consider at least an entire skin cycle, which is a month. On the other hand, for directed skin problems like hyperpigmentation, over the counter active ingredients actually cannot remove the condition. The ingredient can be an adjunct. If you truly suffer from melasma and sunspots for example, you may find that your cosmetic ingredient is not going to get rid of the condition completely. It is beneficial to still include it because benefits from cosmeceuticals may only be visible after years of use. Skincare cosmeceuticals help to reduce photoaging and oxidative stress.
For cleansers and toners, make sure skin does not feel dehydrated after use. A good cleanser and toner is meant to deliver moisture to your skin. At the same time remove excess oil, enhancing the stability of your skin.
For serum and moisturiser, it should not cause any irritation.
16. Dermatologist recommended skincare does not replace a visit to a dermatologist
When will we know if a product isn't working? Or when should we give up on it?
For serums and moisturizers, if you have mild dry skin or eczema, you should see improvement within a day or two. This is in terms of your skin texture and symptoms. If you are not better, it does not necessarily mean that the product is not working. It could simply mean that you probably need medications. Your skin barrier, in the case of eczema, is failing and due to consistent inflammation. It is therefore not sufficient for just barrier repair via moisturisers alone.
If you are attempting to use skincare to treat your skin problem like acne, rosacea or eczema, be careful. Realise that these are actually cosmetic ingredients which can help in the treatment of certain disorders but by no means should replace the treatment itself. Therefore, if you have an active skin concern, get evaluated first by a dermatologist. These cosmetic ingredients can be an accompaniment to your treatment regime. They can help you in terms of maintenance.
https://drtwlpharmacy.com/wp-content/uploads/2022/04/Acne-care-bundle-1030x773-1.jpeg
773
1030
Justin Teo
https://drtwlpharmacy.com/wp-content/uploads/2019/11/Pharmacy-Logo-1-300x97.png
Justin Teo
2022-04-18 17:58:48
2022-04-19 16:12:47
Dermatologist Recommended Skincare Products for Flawless Skin